Hottest Lingerie For BBW
People often think women buy sexy lingerie for their partner's pleasure. At BBW Bliss we believe you should be buying lingerie for ourselves. Dressing up in some sexy little number can make you feel confident and empowered, because the truth is, we look damn good in it. The most important question to ask yourself when buying underwear is, do you feel good? If the answer is no, then it's not the right fit for you.
Finding the right style of lingerie for your body type can be difficult. As BBWs, we are looking for lingerie that is supportive, sexy and most importantly enhances our curves. We have pulled together a list of the best lingerie for BBW.
Matching Sets
Any matching set will make you instantly feel sexier. They will balance out your figure by drawing attention to the body as a whole rather than one specific area.
When selecting a matching set it is important to know which cup shape and knicker cut will enhance your shape whilst making you feel confident. For maximum support and lift the best option is a full cup bra. The full cup provides a modest coverage but can be made sexier by experimenting with colours, patterns and materials. Although, our favourite bra for larger ladies is the balconette. A balconette will support, separate and uplift without completely covering your bust. We think it is the perfect cup to feel sexy and supported. However, if you are not concerned about maximum support then triangle bras are perfect for enhancing your natural breast shape and giving you some hot cleavage.
There are so many types of knickers out there, but which ones are the most flattering for larger ladies? Our go-to tip is always to choose a high waisted, thick waistband. This will show off your waist, provide full support that won't roll down. When it comes to style, although it might not sound sexy, we love a full brief as they provide classy coverage across both the stomach and bum. High legged briefs, on the other hand, is cheeky coverage that will help define your waist. If you are looking for no coverage or support for your bum then high waisted thongs will be your go-to style.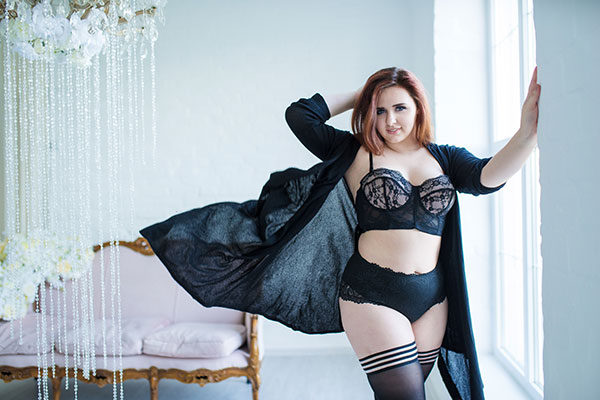 Negligees & Babydolls
Negligees and babydolls are a floaty but sexy style that looks amazing on curvy women. If you are not looking for something figure-hugging but floaty and flattering, then this style is for you. For bigger busted women we strongly advise buying a baby doll with a built-in bra and that comes down to your upper thigh. A built-in bra is a must as it will uplift your bust and offer the most needed support. A negligee like this will flatter your neckline, elongate and perfectly frame your body while disguising any lumps and bumps that you don't want on display. We would match negligees and babydolls with a high waisted thong. They will support and shape your stomach but show off your bum. The fabric of the negligee will seamlessly float over the top and will look super sexy.
Corsets & Bustiers
Corsets and bustiers are perfect for hourglass figures and women who already have curves to flaunt. They have more material than matching sets and more shape than teddies or bodies. The structure of the corset will smooth out the lumps and bumps across your stomach which will enhance your natural shape. They are perfect for drawing you in at the waist and therefore compliments your bust and hips. When choosing a corset or bustier, we advise selecting one with a lower cut front to uplift your boobs and a higher back to avoid leaving you with a "muffin top". Matched with the right underwear you will soon feel sexy, supported and confident.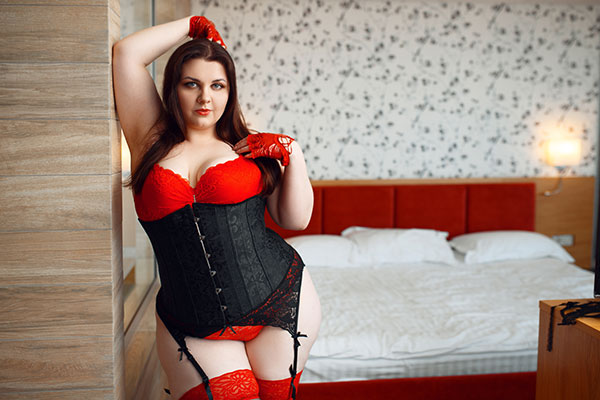 Bodysuits
Bodysuits are great if you're looking for an all in one style. A bodysuit gives a high level of support, hugging and smoothing out lumps and bumps across your body. They leave you with a smooth and sexy silhouette. Depending on what you are looking for you can find bodysuits with different cuts, supports and materials. We think a bodysuit should be a staple in any plus-sized ladies wardrobe. With the right bodysuit, you can use your underwear as outerwear. Throw on a pair of figure-hugging jeans and a strappy heel. Now you have a seductive, sexy outfit for your next date.
The best lingerie for you depends on the function, whether you are looking for sheer sexiness to whip on in the bedroom or if you want something supportive to wear under your clothes on a date. No matter what you want, we advise looking for brands that are created for larger women, they are more likely to provide the support in the right places and a style which suits your curves. Remember, experiment with different styles, colours, patterns and materials is key to finding the right sexy little number.